Energy
Weight Loss
Food into Fuel
iXLR8™
Truly a breakthrough in smooth, plant-based energy and a new avenue for weight management
---
iXLR8 with its special blend of plant extracts and a never before seen double extract process of a secret ingredient is truly a breakthrough in pure, plant-based, smooth energy and a new avenue for weight management by helping the body support lean muscle mass. And when taken with iHeRQles which helps the body to promote better circulation the two products synergistically combine to create a much more amplified effect!
---
iXLR8 is smooth, plant-based energy. It helps the body to promote lean muscle mass. We get energy from our food/diet. Carbohydrates give us short bursts of energy. Protein provides sustained energy. Fats that come from healthy sources provide stamina that lasts all day! iXLR8 with its specially combined plant ingredients can help the body with calm, sustained energy with no jitters or shaky feeling. By supporting lean muscle mass it can lead to many benefits which include better vascular health, stronger tissues, better bone density, and better metabolism with fat burning possibilities for weight management purposes. Ingredients in iXLR8 can help the body regulate FAS (fatty acid synthase) which makes people fat. iXLR8 when combined with iHeRQles becomes a one-two power punch combined with those wishing to watch calorie and/or carb intake reach their weight management goals by turning food into fuel, not fat!

Tired of that afternoon drag? Try iXLR8 for a different kind of smooth, calm, focused, plant-based energy today. And for those wanting to watch their carb and calorie intake, iXLR8 can be the great catalyst to help achieve your weight management goals!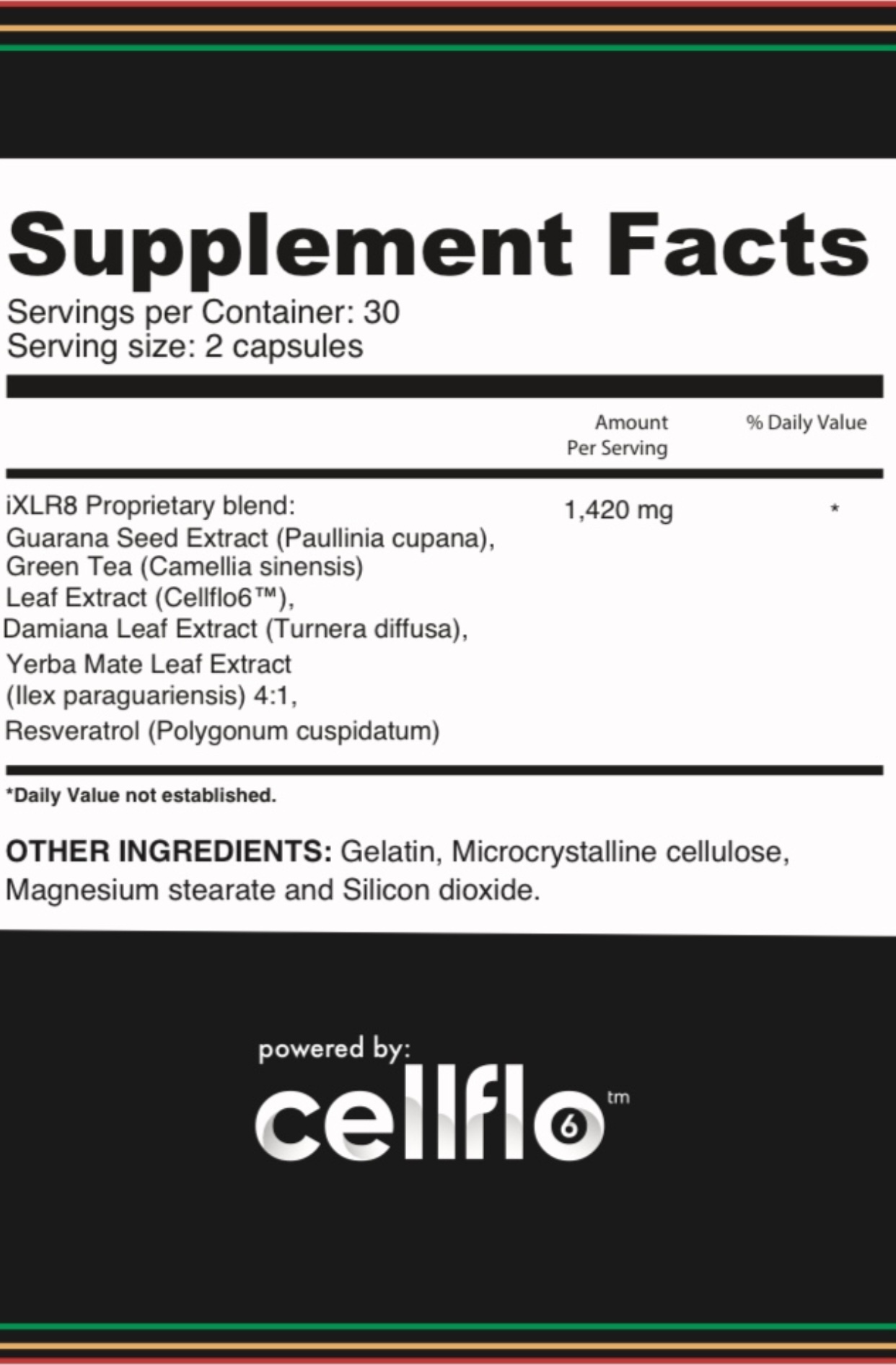 SUGGESTED USE: As a dietary supplement, take 1 serving (2 capsules) daily, as needed.

WARNING: Take only as directed. If you are pregnant, nursing, under 18, using any prescription or over-the-counter drug(s), including blood thinners or have a medical condition, consult a physician before using this supplement. Discontinue use if you experience unusual symptoms. Improper use of this product will not improve results and is not advised.

KEEP OUT OF REACH OF CHILDREN. Sealed for your protection. Do not use if seal is missing or broken. Best stored at controlled room temperature 20°C to 25°C (68°F to 77°F). Improper storage conditions, such as extended exposure to direct sunlight, high heat & humidity can cause product degradation over time.

Weight management requires exercise and a healthy diet.